Texas Nissan of Grapevine is inspired to be the commanding location for the Nissan Rogue in TX. Texas Nissan of Grapevine is a Dallas Fort Worth Nissan dealership and carries a colossal inventory of New Nissan Rogue and top quality and high value Used Nissan Rogue and other cars & trucks.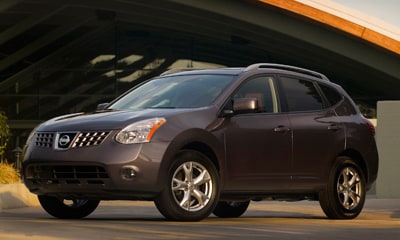 When buyers compare the Nissan Rogue to other makes like the , the 2011 Nissan Rogue shines as the most fun-to-drive. Starting with the 2010 Nissan Rogue, owners found this affordable Midsize SUV's crisp handling and lively acceleration to be reason enough to choose.
The modern 2011 Nissan Rogue impresses with its 170-horsepower 2.5-liter 4-cylinder engine, Vehicle Dynamic Control (VDC), Nissan's Xtronic CVT (Continuously Variable Transmission), and 4-wheel disc brakes with Anti-lock Braking System (ABS). All-Wheel Drive is available on Rogue S, Rogue SV, and Rogue S Krom.
Rogue is extensively roomy, and provides 58 cubic feet of cargo space as well as a 60/40 split rear seat. The Rogue also contains several hidden storage spaces, including a large center console and glove box. A fold-down front passenger seat is also available.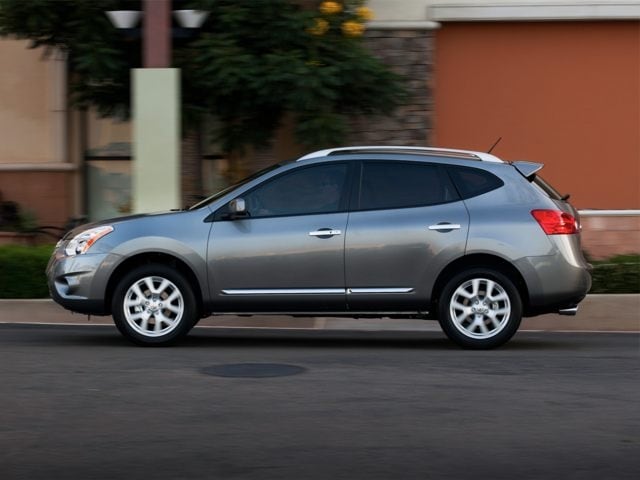 Rogue is the ultimate in safety, coming standard with six air bags, including roof-mounted curtain side impact air bags and front seat-mounted side impact air bags. Rogue also comes equipped with a rollover sensor for improved front and rear-seat outboard occupant head protection. Beyond air bag protection, Rogue includes a tire-pressure monitor, active head restraints, and three-point safety belts. The cutting-edge crumple zones of Nissan's Zone Body construction help to absorb the energy of an impact, providing extra protection for passengers.
Rogue also provides the latest in technology, featuring Bluetooth connectivity, Nissan Intelligent Key, RearView Monitor, Navigation System, Xenon headlights, XM Satellite Radio (XM subscription required), and a Bose sound system.
For consumers who crave the sporty look, the Rogue S Krom Edition has an integrated body-colored rear spoiler, center-exit sport-tuned exhaust, incomparable front grille and bumper with fog lights, unique rear fascia, 18-inch aluminum-alloy wheels and power outside mirrors.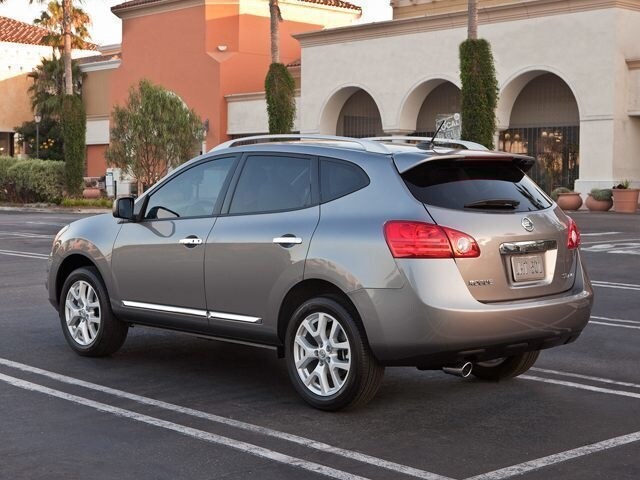 Compare Nissan Rogue to its sibling, Murano. The Rogue's dynamic design borrows from the sophistication of its older brother, but is more compact and loaded with energy. For 2011, Nissan Rogue takes on a more athletic look, utilizing a larger, aggressive chrome grille. Adding to the athleticism are the tire deflectors as well as the rear and front spoilers.
The Rogue is for sale at your commanding Dallas Fort Worth Nissan dealership. The Rogue provides a pleasant driving experience and a smooth ride. Whether you're looking for a gently used 2008 Nissan Rogue, a certified pre-owned 2009 Nissan Rogue, a pristine 2010 Nissan Rogue, or a brand new 2011 Nissan Rogue, Nissan Dealer, Texas Nissan of Grapevine is your #1 resource. We have a variety of Rogues for sale, including the Rogue S Krom Edition, Rogue SV, and the Rogue SV with SL Package.
Texas Nissan of Grapevine offers the Nissan Rogue a 4-door Midsize SUV which seats 5 people satisfactorily. The Rogue weighs 3276 pounds, is 183.3 inches long, 70.9 inches wide, 65.3 inches high, and the Nissan Rogue's turning radius is 37.4 feet. extensively roomy for its class, the Rogue has 40.4 inches of headroom in the front, and 42.5 inches of legroom up front. In the Rogue's back seat, there are 38.3 inches of headroom and 35.3 inches of legroom. Need to bring a lot of luggage? The Rogue trunk holds up to 28.9 cubic feet of your equipment. So, take a breather and have fun!
Standard Nissan safety features included in the Rogue are traction control, anti-lock brakes, side airbags, driver airbags, side-impact bars, seat-belt pre-tensioners, passenger airbags. With all these features, the Nissan Rogue is always rated tremendously by the IIHS and NHTSA.
The Rogue also has a raft of comfort and convenience features, including power steering, remote locks, power windows, power mirrors, climate control, cruise control, air conditioning, power seats, adjustable steering wheel, and more! Especially nice are available hands-free phone and navigation. Test drive the Nissan Rogue in Dallas Fort Worth at Texas Nissan of Grapevine.
Like all Nissan cars & trucks, road handling and performance are top priorities for the Rogue. Passing horsepower in the base Rogue is 170 bhp @ 6000 rpm, and producing excellent torque 175 bhp @ 4400 rpm foot pounds/rpm, the Rogue accelerates swiftly from 0 to 60 mph in just seconds. If you want to go that fast, the Rogue has a top speed of miles per hour. Despite this excellent power train output, the Nissan Rogue's fuel economy is rated at 22 miles per gallon in the city and 28 highway miles per gallon. With a fuel tank capacity of 15.9 gallons, the Rogue cruising range is well above average. Truly a performance car!
The Nissan manufacturer's warranty covers the Rogue for manufacturing defects and has these specifications 3 years / 36,000 miles. Nissan has worked for years to minimize enviromental impact, and the Rogue's carbon footprint is rated at . Not surprisingly, with all these Rogue advantages, this great Nissan Midsize SUV retains percent of its value at 3 years and 36,000 miles, which makes the Nissan Rogue a great used buy!
When seeking safe, economical, sporty and stylish Midsize SUV, Grapevine buyers should head to the Nissan dealer of choice, Texas Nissan of Grapevine at 1401 W State Hwy 114 in Grapevine [Dealership State].