Read about 2015 Rogue for the Grapevine area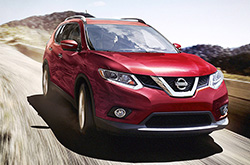 The Nissan Rogue returns this year with a couple new enhancements after undergoing a complete redesign for 2014. A new exterior color and package updates can be found on the 2015 Nissan Rogue along with an outstanding 2.5L four-cylinder engine. With its incredible performance abilities, the engine is able to handle all of the SUV's capabilities and more. If you want to learn additional details about the Rogue's first-class engine and amenities, check out our 2015 Nissan Rogue review for complete information.
Outputting 170 horsepower and 175 lb.-ft. of torque, the Nissan Rogue's 2.5L four-cylinder engine is very powerful and efficient. A continuously variable transmission supports the engine and helps establish its first-class fuel economy: an EPA-estimated 26 city mpg, 33 highway mpg and 28 combined mpg on front-wheel drive models. For those interested, the 2015 Nissan Rogue in Grapevine also comes in all-wheel drive models, which can go from zero to 60 mph in 9.0 seconds. However, these models produce less fuel economy, so if you're looking to save on gas, purchasing a front-wheel drive model is a better choice.
Since the 2015 Nissan Rogue in Grapevine was recently redesigned, it only features a few enhancements for the new model year. Eco mode, a function which helps to preserve fuel, has been added to the powertrain package and heated seats have been introduced on the SV premium package. Additionally, one brand-new exterior paint color is now a part of the color palette. The new shade, Artic Blue Metallic, replaces Graphite Blue, giving buyers a fresh color to drape over their newly revised Rogue.
Are you interested in acquiring more knowledge about the new Rogue SUV and its fantastic range of features and amenities? Continue browsing our 2015 Nissan Rogue review for additional details and exclusive spec information.�