Grapevine Nissan Dealership Reviews the New LEAF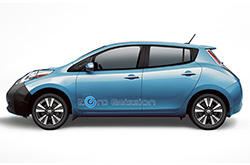 The always reliable Nissan LEAF is back again for 2015 and this year it's available with a collection of enhanced features and amenities. A couple technology upgrades have been included on the new model as well as a fresh exterior paint color. The latest shade complements the styling on the 2015 Nissan LEAF and expands the car's color palette. To learn more about it, read our 2015 Nissan LEAF review for additional information. You'll also discover details about the EV's incredibly efficient powertrain, which stands as one of the best in its segment, outshining the rest.
Running solely on electric power, the 2015 Nissan LEAF in Grapevine is equipped with a 80-kW electric motor and a 24 KWh lithium-ion battery pack. Altogether, the system produces 107 horsepower and 187 lb.-ft. of torque and provides an EPA-estimated 84-mile driving range for drivers to take advantage of. A front-wheel-drive vehicle, the LEAF also features three separate transmission settings: Normal, Eco-Mode and B-Mode, which allow drivers to make adjustments according to the road conditions. The B-Mode setting provides aggressive regenerative braking, acquiring battery energy from the car's forward momentum.
Taking its appeal up a notch for the new model year, the Nissan LEAF is being offered with a series of fresh enhancements. The SV trim comes with new standard 17-inch aluminum-alloy wheels and the base LEAF S now receives the standard B-Mode transmission setting. Additionally, the SV and SL trims feature voice destination entry and hands-free text messaging, improving functionality within the cabin. The only exterior modification to the 2015 Nissan LEAF in Grapevine is the introduction of a new paint color: MorningSky Blue. The fresh option gives buyers a new shade to choose from and adds extra flair to the LEAF lineup.
If you want to find out more info about the LEAF and its qualities, keep reading our 2015 Nissan LEAF review for specs and additional details.�