Learn More About the New GT-R From Texas Nissan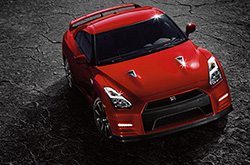 The 2015 Nissan GT-R reclaims it spot on the market this model year, offering buyers an array of models to choose from. The signature GT-R Premium and GT-R Black Edition make their way back onto the roster for 2015, sitting aside the all-new first-generation GT-R NISMO model. All three cars come stocked with a wide range of features, including innovative technologies and performance-focused components. Equipped with exceptional powertrains, the latest GT-Rs rival their competitors. Check out our 2015 Nissan GT-R review below to learn more details about the cars and their first-class mechanics.
Producing 545 horsepower and 463 lb.-ft. of torque, the 3.8L V-6 engine outfitted in the GT-R Premium and GT-R Black Edition is incredibly powerful. It comes mated to a six-speed manual transmission and an all-wheel-drive system, giving it the ability to reach 60 mph in 3.2 seconds or less - a spectacular time for a car of its stature. The brand-new 2015 Nissan GT-R NISMO in Grapevine impresses drivers even more with its ability to produce 600 horsepower and 481 lb.-ft. of torque. Its six-speed dual-clutch transmission helps to deliver optimal performance, creating an excellent ride during every drive.
In addition to their fantastic powertrains, the GT-R Premium and Black Edition models come with a collection of new features for 2015. Fresh LED headlights, a Bose Active Noise Cancellation system, an optional Titanium exhaust system, Premium Interior Package and Real Red paint color option have been added to each model. The 2015 GT-R NISMO in Grapevine comes with some of these components as well; however, the new model is only available for a limited time, so be sure to get yours before it's too late.
If you'd like to find out more information about the GT-R, continue reading our 2015 Nissan GT-R review for complete details.�