Compare the Nissan Armada's Specs & Features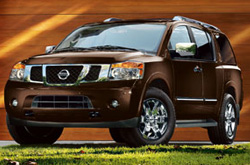 When you compare Nissan's newest Armada model side-by-side with the 2014 Ford Expedition, Buick Enclave and the Toyota Sequoia, you'll find out that it trumps the competition. If the Armada's low pricing and advanced features don't convince you that it's the right vehicle for your needs, we're sure its exquisite exterior design will seal the deal. Hundreds of Grapevine Nissan drivers choose it because it's a phenomenal value; just compare its price to the vehicles in its segment. Take a look at our Armada Facts list; look just under this paragraph for bullets.
2014 Nissan Armada MPG: 13 city / 19 highway
2014 Nissan Armada Seats: 8 passengers
2014 Nissan Armada Doors: 4-door
2014 Nissan Armada 0-60 MPH in 7.9 seconds
2014 Nissan Armada Cargo Space: 97 cubic feet
2014 Nissan Armada Body Style(s): SUV
2014 Nissan Armada MSRP: $41,290
2014 Nissan Armada Colors: Midnight Garnett, Galaxy Black, Brilliant Silver, etc...