Texas Nissan is thrilled to be the foremost supplier for the Nissan Maxima in Texas. Texas Nissan is a Dallas-Fort Worth Nissan dealership and carries a full inventory of New Nissan Maximas and top quality and high value Used Nissan Maxima and other cars & trucks.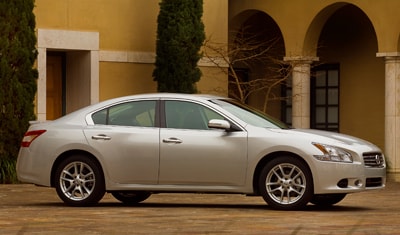 The 2011 Maxima comes in two models, including the Maxima 3.5 S and Maxima 3.5 SV, each equipped with a 290-horsepower, 3.5-liter V6 engine and Xtronic CVT transmission with manual and 'Ds' (drive sport) modes and available paddle shifters.
The iconic Nissan Maxima has come a long way since its debut in 1984. Earning its reputation as the original 4-Door Sports Car, the 2011 Nissan Maxima wows once again by combining the soul of a sports car with the sensibility of a sedan. Recently, the 2010 Nissan Maxima made headlines with 'The 2010 Nissan Maxima Wins AutoPacific Best in Class Vehicle Satisfaction Award.' Nissan Maxima has won the award in the category of luxury mid-size car. This reward is known as an industry benchmark for measuring owner satisfaction and is presented to vehicles that deliver consistent consumer value across the board.
Maxima gives a dynamic presence that sets itself apart from other mid-size sedans. With an exterior design theme that its designers refer to as 'Liquid Motion,' Maxima's exterior is enhanced by the flow of its gorgeous and strong surfaces, like the undulation of a wave. The look starts with Maxima's outspoken fender volume and aggressive stance. When you compare Nissan Maxima to exotic sports cars, these features easily put this Nissan car right in the mix.
With its sophisticated interior and wide range of high-tech features, Maxima gives passengers luxury and comfort while providing a sporty, thrilling feel for the driver. These advanced technological features include a rear view monitor, voice recognition, premium audio system with 9.3GB Music Box Hard Drive, and Nissan Navigation system with XM NavTraffic Real-Time Traffic Information (XM subscription required, sold separately).

The Maxima is for sale at your foremost Dallas-FortWorth Nissan dealership in a wide array of colors: Brilliant Silver, Tuscan Sun, Metallic Slate, Mystic Jade, Winter Frost, Crimson Black, Super Black, Navy Blue, and Ocean Gray. The Maxima provides a pleasant driving experience and a smooth ride. Whether you're looking for a gently used 2008 Nissan Maxima, a certified pre-owned 2009 Nissan Maxima, a pristine 2010 Nissan Maxima, or a brand new 2011 Nissan Maxima, Nissan Dealer, Texas Nissan of Grapevine is your #1 resource. We have a variety of Maximas for sale, including the Maxima 3.5S, Maxima 3.5SV, Maxima 3.5S with Sport Package, as well as the high end Maxima 3.5SV with Premium Package.
When shoppers compare the Nissan Maxima to other makes like the Honda Accord, the 2011 Nissan Maxima shines as the most fun-to-drive. Starting with the 2010 Nissan Maxima, owners found this affordable Midsize Sedan's crisp handling and lively acceleration to be reason enough to choose.
Texas Nissan offers the Nissan Maxima a 4-door Midsize Sedan which seats 5 people satisfactorily. The Maxima weighs 4698 pounds, is 190.6 inches long, 73.2 inches wide, 57.8 inches high, and the Nissan Maxima's turning radius is 37.4 feet. surprisingly comfortable for its class, the Maxima has 38.5 inches of headroom in the front, and 43.8 inches of legroom up front. In the Maxima's back seat, there are 36.4 inches of headroom and 34.6 inches of legroom. Need to bring a lot of luggage? The Maxima trunk holds up to 14.2 cubic feet of your stuff. So, take it easy and enjoy!
Standard Nissan safety features included in the Maxima are traction control, anti-lock brakes, side airbags, driver airbags, side-impact bars, seat-belt pre-tensioners, passenger airbags. With all these features, the Nissan Maxima is always rated remarkably by the IIHS and NHTSA.
The Maxima also has a raft of comfort and convenience features, including power steering, remote locks, power windows, power mirrors, climate control, cruise control, air conditioning, power seats, adjustable steering wheel, and more! Especially nice are available hands-free phone and navigation. Test drive the Nissan Maxima in Dallas-FortWorth at Texas Nissan.
Like all Nissan cars & trucks, road handling and performance are top priorities for the Maxima. Passing horsepower in the base Maxima is 290 bhp @ 6400 rpm, and producing excellent torque 261 ft lb @ 4400 rpm foot pounds/rpm, the Maxima accelerates briskly from 0 to 60 mph in just seconds. If you want to go that fast, the Maxima has a top speed of miles per hour. Despite this excellent power train output, the Nissan Maxima's fuel economy is rated at 19 miles per gallon in the city and 26 highway miles per gallon. With a fuel tank capacity of 20 gallons, the Maxima cruising range is well above average. Truly a performance car!
The Nissan manufacturer's warranty covers the Maxima for manufacturing defects and has these specifications 3 years / 36,000 miles. Nissan has worked for years to minimize enviromental impact, and the Maxima's carbon footprint is rated at . Not surprisingly, with all these Maxima advantages, this great Nissan Midsize Sedan retains percent of its value at 3 years and 36,000 miles, which makes the Nissan Maxima a great used buy!
When seeking safe, economical, sporty and stylish Midsize Sedan, Grapevine shoppers should head to the Nissan dealer of choice, Texas Nissan at 1401 W State Hwy 114 in Grapevine TX.