The 2012 Nissan Leaf from Texas Nissan is the epitome of ardent automotive craftsmanship built to fit the needs of [Dealership State] Nissan buyers. Texas Nissan is elated to present the 4-door 2012 Nissan Leaf Compact Sedan. As your Dallas-Ft. Worth Nissan dealer, we hope you find our 2012 Nissan Leaf reviews and research materials beneficial in finding the amenities, specifications and information you've been hunting for. View Texas Nissan's lineup of 2012 Nissan Leaf Compact Sedans.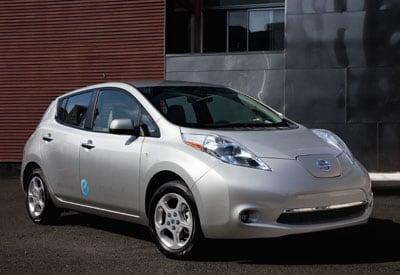 Texas Nissan presents the 2012 Nissan Leaf Compact Sedan
Buyers find that when they compare the 2012 Nissan Leaf to other makes like the Ford Fusion Hybrid, Chevrolet Volt and Toyota Prius, the Nissan Leaf emerges as the most fun to drive. Check out our Quick List spec table below to see why!
The 2012 Nissan Leaf has an starting MSRP of $32,780
The 2012 Nissan Leaf gets 106 city / 92 highway MPG
The 2012 Nissan Leaf goes from 0-60 MPH in 7 seconds
The 2012 Nissan Leaf features 42.1 inches of legroom up front and 31.1 inches in back
The 2012 Nissan Leaf features 41.2 inches of headroom in front and 37.3 inches in back
The 2012 Nissan Leaf is 175 inches long, 69.7 inches wide and is 61 inches tall
The 2012 Nissan Leaf weighs 3375 pounds and has a turning radius of 17.1 feet
We know you'll admire the Nissan Leaf - visit Texas Nissan in Dallas-Ft. Worth today!
Step away from the pump and trade pollution-causing horsepower for eco-friendly kilowatts. After nearly two decades, the electric car is a reality and the Leaf has helped carve out a permanent place for battery-powered cars in a predominantly gas-centric automotive market. Following the Nissan Leaf 2011, the new second-generation Leaf from Texas Nissan has returned with a number of upgrades that'll have naysayers changing their tune about these zero-emissions vehicles. Whether you live a green lifestyle or are simply tired of constantly fluctuating gas prices, this game-changing electric car will more than satisfy your needs. With available state and federal tax incentives that can get you up to $7,500 off the price, the 2012 Nissan Leaf's already low MSRP of $32,780 makes it a more appealing option than the Ford Fusion Hybrid, Chevrolet Volt and Toyota Prius. Electric vehicles have officially entered the mainstream and the Nissan electric car makes hybrids look as though they were merely placeholders. Now you don't have to comprise. No more gas and no more emissions - that's worth thinking about.
Just a few years ago, many believed that it couldn't be done. With the oil industry huffing and puffing at the backs of state officials and natural gas industrialists pushing the idea of a hydrogen car, first attempts at mass producing electric vehicles failed. Several of the first electric cars were actually placed in museums, as if they were relics - albeit short lived - that were never going to be seen on roads again. Then, like magic, a few years after the controversial 2006 documentary Who Killed the Electric Car?, battery-powered vehicles were brought back from the dead. Texas Nissan is proud to offer one of the most popular and well-reviewed electric vehicles in the world. You are invited to visit our Dallas-Ft. Worth Nissan dealership and see the new 2012 Nissan Leaf today!
Dallas-Ft. Worth Nissan shoppers who desire a green car need look no further. The Leaf is an innovative vehicle that is saving the planet and saving drivers money at the pump. With a four-door hatchback design and room for up to five passengers, the 2012 Nissan Leaf from Texas Nissan is economical and spacious. The Leaf is available in two trims, SV and SL, and it comes in cool colors like Glacier Pearl, Brilliant Silver and the famous Blue Ocean paint color that often graces the Leaf models that are seen in ads.
Now to the good stuff: how many miles can this puppy go on a single charge? Answer: over twice as many as your average hybrid. The 2012 Nissan Leaf is built to travel approximately 100 miles on one charge, according to EPA LA4 city cycle tests. It is powered by an 80-kilowatt AC synchronous electric motor that is "fueled" by a 24 kWh lithium-ion battery pack. While the power delivery of an electric vehicle is different from that of a traditional diesel or gas-fueled car, the Leaf produces an impressive 107 horsepower and 207 pound-feet of torque. In Nissan Leaf reviews, the vehicle gets positive marks for its peppy performance and snappy acceleration. Come experience the spirited ride of the Leaf today by visiting Texas Nissan and taking a test drive.
As your premier Dallas-Ft. Worth Nissan dealer, we are always here to answer all of your questions about the new 2012 Leaf. When you visit, one of our knowledgeable representatives will go over all of the Leaf's standard and available features and packages. In the meantime, here is a rundown of feature highlights. On the base SV, you can find high-tech amenities like keyless ignition/entry, an auto-dimming review mirror, a trip computer, satellite radio, Bluetooth and an iPod/USB audio interface. The SL adds features like a rearview camera, foglamps and a spoiler-mounted solar panel.
Even with its plethora of advanced technologies, the Leaf offers ease of use. Every Nissan electric car from Texas Nissan comes standard with a charging port that is compatible with a home charger and trickle port adaptor. Both can be easily plugged straight into any standard outlet. Charging the 2012 Nissan Leaf has become even easier this year with the SL's new quick charge port. This feature comes standard on the SL and gives you up to an 80 percent charge in only 30 minutes. It will also enable Dallas-Ft. Worth Nissan Leaf owners to plug in at high-speed, high-voltage commercial chargers that work in minutes instead of hours. In addition to this, the Leaf's designers created a set of innovative cold weather features, including amenities like heated seats and outside mirrors, a rear HVAC duct, a heated steering wheel and a battery heater. All of these features were incorporated to more efficiently heat up the car - and the Nissan Leaf is of course all about efficiency.
Get excited. There is no reason to hide it. The Nissan Leaf is the start of something big. A full electric vehicle finally available to the masses at a realistic price: it's a milestone that's hard to ignore. We are proud to present the new 2012 Nissan Leaf at Texas Nissan. Consumers who have been on the fence about investing in a green car are jumping on the bandwagon, and soon you will too. Visit our Dallas-Ft. Worth Nissan dealership to learn more about this revolutionary vehicle.
Cruising in a Nissan Leaf from Texas Nissan makes TX driving comfy, safe and fun - all at the same time! Here are the reasons why:
Texas Nissan has a large assortment of 2012 Nissan Leaf Compact Sedans with standard Nissan safety features like anti-lock brakes, traction control, driver airbags, passenger airbags, side airbags and more, making the 2012 Leaf an NHTSA and IIHS favorite. In addition to these safety features, the 2012 Nissan Leaf can adequately seat up to 5 passengers. Trunk space with Nissan is never a worry; the Leaf can hold up to 24 cubic feet of your stuff, ensuring that your next journey is hassle-free. To top it all off, the 2012 Nissan Leaf includes an excellent list of comfort and convenience extras like powered windows, mirrors, doors and locks, climate control, AC and optional hands-free phone and navigation systems. Take a test drive at Texas Nissan today and experience the Nissan Leaf for yourself.
The Nissan manufacturer's warranty covers the Leaf for manufacturing defects and has a 36 months / 36,000miles Nissan warranty. Nissan has worked for years to minimize its environmental impact; as a result, the Leaf's carbon footprint is minimal. Not surprisingly, with all of the Leaf's advantages, this sensational Nissan Compact Sedan retains a high percentage of its value at 3 years and 36,000 miles, which makes the Nissan Leaf a great used buy! When seeking a safe, stylish and economical Compact Sedan, Grapevine Nissan buyers should head to Texas Nissan, located at 1401 W State Hwy 114 in Grapevine, [Dealership State]
Nissan Leaf service information for Dallas-Ft. Worth
Nissan Leaf lessees and owners in Dallas-Ft. Worth have determined that Texas Nissan at 1401 W State Hwy 114 in Grapevine is the very best choice for Leaf warranty work, regular maintenance, inspections and mechanical repairs. At Texas Nissan, Certified Nissan Technicians trained in the very latest corrective and diagnostic techniques work for one thing - your complete satisfaction. Whether it's time for your Nissan to have an oil change, shock and strut replacement, or simply undergo Leaf Scheduled Maintenance, Texas Nissan is your first choice. Our Certified Nissan Mechanics also complete specialty jobs and repairs. Texas Nissan is the smartest choice in Dallas-Ft. Worth for fast, considerate and professional Nissan Service of all kinds.
If you'd like to make an appointment to have your Leaf serviced, click the link or just give us a call. Stop by soon!