Texas Nissan is delighted to be the leading point for the Nissan Juke in Texas. Texas Nissan is an Dallas-Fort Worth Nissan dealership and carries inventory of Nissan Juke and top quality and high value Used Nissan Juke and other cars & trucks.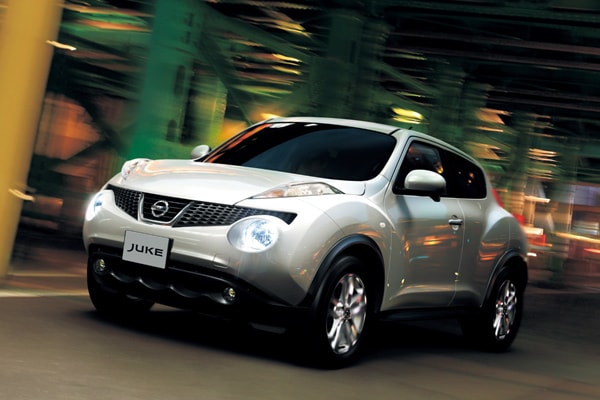 Smaller than the Nissan's compact SUV, Rogue, the 2011 Juke, is ready to make a make its presence known with a enormous list of accolades that make it functional and fun. With Juke, you get a state-of-the-art subcompact crossover that leaves a lasting impression from the second you lay eyes on it. And Juke offers more than just good looks. Underneath its exemplary exterior lies some very innovative technology.
Juke gets its power from Nissan's 1.6-liter Direct Injection Gasoline (DIG) turbo 16-valve inline four-cylinder. The DIG 1.6 delivers a strong 188 hp to launch the Juke. Front-wheel drive Jukes are available with either a six-speed manual gearbox or Nissan's Xtronic Continuously Variable Transmission (CVT). Juke is also offered with Torque Vectoring All-Wheel Drive. This advanced AWD can split torque up to 50:50 between the front and rear axles, as well as being able to distribute between the rear wheels.
Another state-of-the-art innovation debuting on Juke is the Integrated Control (I-CON) system. It combines control of the automatic A/C and a three-mode drive selector, Normal for everyday driving, Sport for a more intense performance feel and Eco for maximum efficiency, adjusting throttle response, transmission (CVT) and steering feel for the precise ride the driver desires.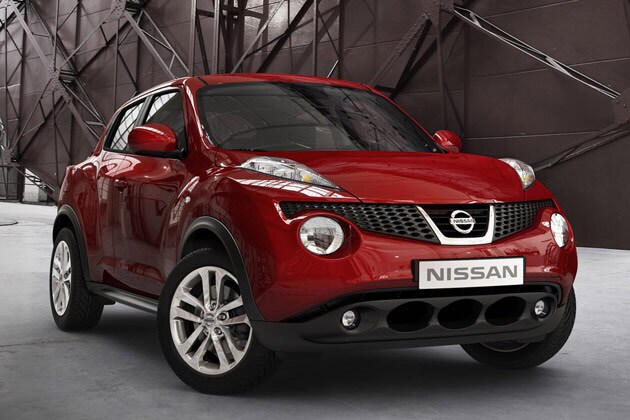 Inside the Juke, drivers are submersed with even more high technology. Juke is available with a touchscreen navigation system that is combined with an iPod interface when one of the devices is hooked up to the USB port. Juke offers standard seating for five with a fold-flat 60/40 split rear seat for added cargo room.
In addition to the powertrain combination, Nissan Juke gets great fuel economy, with an estimated highway mileage of 30 mpg. FWD cars with the CVT are estimated to deliver 27 mpg in the city and 32 mpg on the highway. The six-speed manual outputs 24 mpg city/31 mpg highway. Even with the all-wheel drive the Juke still proves to be economical with 25 mpg city and 30 mpg highway.
The available sporty AWD system with 17-inch wheels means that the turbocharged Juke is extensively entertaining to drive. To be prepared for everything, the 2011 Nissan Juke's standard Traction Control System and Vehicle Dynamics Control are ready assist as needed. With safety being a priority, Juke also comes standard with Nissan's Advanced Airbag System.
Juke comes in three trim levels: S, SV and SL. Juke S includes the standard powertrain features, as well as a six-speaker stereo with controls in the steering wheel, door locks that are speed sensitive, Bluetooth connectivity and an iPod interface. The Juke SV adds to the S by adding a push-button start with Nissan IntelligentKey, a moonroof, XM Satellite Radio, and a steering wheel wrapped in leather. Juke SL adds leather-trimmed heated seats, the Navigation System with RearView Monitor, upgraded speakers with a Rockford Fosgate Subwoofer, and a USB iPod interface.
When shoppers compare the Nissan Juke to other makes like the RAV4, the 2011 Nissan Juke shines as the most fun-to-drive. Starting with the 2010 Nissan Juke, owners found this affordable Compact SUV's crisp handling and lively acceleration to be reason enough to choose.
Texas Nissan offers the Nissan Juke a 4-door Compact SUV which seats 5 people sufficiently. The Juke weighs pounds, is 162.4 inches long, 69.5 inches wide, 61.8 inches high, and the Nissan Juke's turning radius is feet. extensively roomy for its class, the Juke has 38.6 inches of headroom in the front, and 42.1 inches of legroom up front. In the Juke's back seat, there are 36.7 inches of headroom and 32.1 inches of legroom. Need to bring a lot of luggage? The Juke trunk holds up to 10.5 cubic feet of your gear. So, take a break and have a good time!
Standard Nissan safety features included in the Juke are traction control, anti-lock brakes, side airbags, driver airbags, side-impact bars, seat-belt pre-tensioners, passenger airbags. With all these features, the Nissan Juke is always rated remarkably by the IIHS and NHTSA.
The Juke also has a raft of comfort and convenience features, including power steering, remote locks, power windows, power mirrors, climate control, cruise control, air conditioning, power seats, adjustable steering wheel, and more! Especially nice are available hands-free phone and navigation. Test drive the Nissan Juke in Dallas-Fort Worth at Texas Nissan.
Like all Nissan cars & trucks, road handling and performance are top priorities for the Juke. Passing horsepower in the base Juke is 188 bhp, and producing excellent torque 177 ft lbs foot pounds/rpm, the Juke accelerates promptly from 0 to 60 mph in just seconds. If you want to go that fast, the Juke has a top speed of miles per hour. Despite this excellent power train output, the Nissan Juke's fuel economy is rated at 27 miles per gallon in the city and 32 highway miles per gallon. With a fuel tank capacity of 20 gallons, the Juke cruising range is well above average. Truly a performance car!
The Nissan manufacturer's warranty covers the Juke for manufacturing defects and has these specifications 3 years / 36,000 miles. Nissan has worked for years to minimize enviromental impact, and the Juke's carbon footprint is rated at . Not surprisingly, with all these Juke advantages, this great Nissan Compact SUV retains percent of its value at 3 years and 36,000 miles, which makes the Nissan Juke a great used buy!
When seeking safe, economical, sporty and stylish Compact SUV, Grapevine shoppers should head to the Nissan dealer of choice, Texas Nissan at 1401 W State Hwy 114 in Grapevine TX.