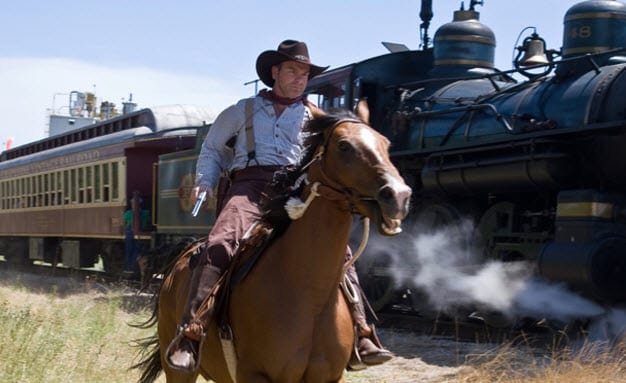 Grapevine Vintage Railroads is currently hosting their popular Great Train Robberies from now until Sept. 3, 2016. Held every Saturday and Sunday at 1 p.m. during trips to the Fort Worth Stockyards, the Great Train Robberies provide an exciting family experience complete with cowboy bandits and high-energy fun.
Looking for something thrilling to do with the family? Jump on board Grapevine Vintage Railroad's 1953 diesel locomotive and take part in one of their scheduled Great Train Robberies. During the unique performance, which takes place halfway through the trip to the Fort Worth Stockyards, a group of costumed cowboy train robbers will hijack the train and hand over their loot to younger passengers on board. However, it won't be long until Marshal catches up with them, chasing them through each coach and deputizing child passengers along the way.
The entire robbery takes nearly 10 minutes to complete and during the routine passengers are welcome to take photos with the actors. Following the event, the train will continue on to the Fort Worth Stockyards as intended.
If this sounds like the perfect event for you and your family, you can purchase tickets for the Great Train Robberies online now.
Great Train Robberies
Location: Grapevine Vintage Railroad – 705 S. Main Street
Time: 1 p.m.
Admission: First Class - $26, Touring Class - $18