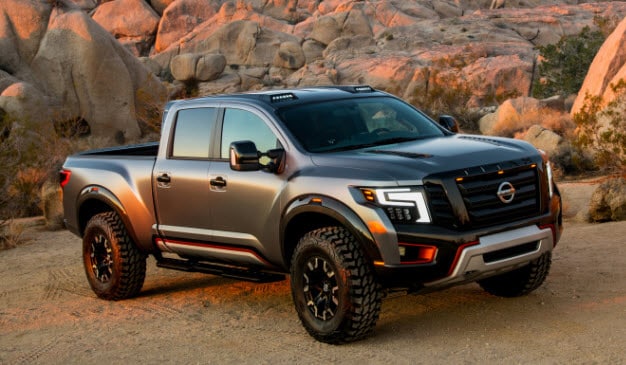 The 2016 Detroit Auto Show served as the setting for debut of Nissan's all-new Titan Warrior concept. Based on the brand-new Titan XD model, the concept features all of the equipment and mechanics necessary to rummage over off-road terrain with no setbacks and overcome just about any obstacles in its path. It pays tribute to Nissan's former off-road-racing HardBody compact truck and embodies the brand's heritage.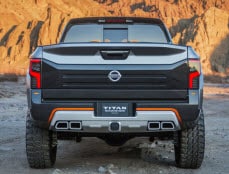 Featuring Nissan's "Modern Armor" design language, the Titan Warrior concept is nothing short of stylish. It comes with crisp LED headlights and taillights that give the car a menacing look, beefy fenders that have increased in size by 3 inches, a rugged yet stylish front skid plate and upgraded sill protectors. The truck is also finished off in a "Thunder" matte paint job and sports "Magma" orange accents on select portions of the body.
The brand-new impressive exterior is just one area the Titan Warrior excels. It also sports hydraulic bumps stops, custom fuller and lower control arms, custom shocks and extended prototype front axles that benefit the truck's performance and ride quality. Additionally, the pickup, which is six inches wider than he standard Titian XD, is equipped with the same Cummins 5.0L V8 turbo-diesel engine and six-speed automatic transmission found in the XD. Boasting 310 horsepower and 555 lb.-ft. of torque, the engine packs enough punch to take you anywhere you want to go.
There's no word as to whether or not Nissan will put the Titan Warrior concept into production; however, you can purchase the standard 2016 Nissan Titan XD model now at Texas Nissan. Outfitted with a variety of all-new features and technologies, the XD is built for truck lovers everywhere.