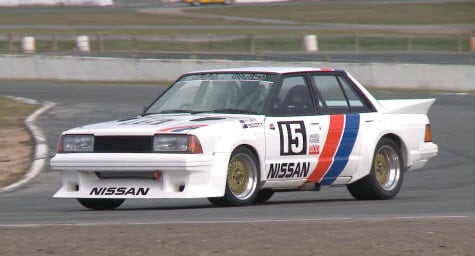 Nissan is coming up on the 30th anniversary of their first-ever pole position in the Bathurst 1000, and to celebrate the historic moment, the brand will be paying homage to the car that made it all possible this year's Australian race: a 1984 Nissan Bluebird. Originally driven by George Fury, the Bluebird broke the Bathurst Top 10 Shootout record, clocking in at 2 minutes and 13.85 seconds. It took over seven years for anyone to beat the phenomenal record, and it was none other than Nissan who was able to do it, using a GT-R R32, keeping the company's legacy going strong.
To pay tribute to the Bluebird's record in 1984, Nissan has decided to add blue and red factory stripes to the #36 Nissan Altima that will be participating in the 2014 Supercheap Auto Bathurst 100, running from Oct. 9-12. The brand's drivers, Michael Russo and Dean Fiore, will be the lucky ones racing the car, which will hopefully get them a few wins during the four-day event. In addition to the new paint scheme, Fury is also set the get behind the wheel of the original Bluebird, which was recently restored - a special moment you won't want to miss!
Check out the video below to learn a little bit more about the Bluebird's record-breaking run and get a glimpse of the repainted Nissan Altima before it hits the track at this year's Bathurst 1000!