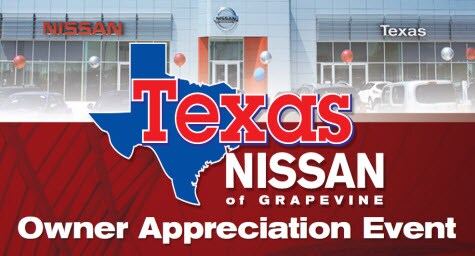 Texas Nissan would like to thank everyone who came out and participated in our New Owner's Clinic, which was held on Wednesday, Sept. 17. Close to 40 new car owners showed up for event, making it a great turnout, and we could not be happier with its success. It was a fun evening for all and we enjoyed teaching everyone about their newly purchased Nissan car, truck or SUV. We can't wait to hold our next New Owner's Clinic and would like to encourage anyone with inquires about their new car to contact us today - we'll more than happy to answer your questions!
Both educational and fun, our New Owner's Clinic gave new car owners a chance to find out specific information about their car and details on proper maintenance. We also took the time to answer any questions they had concerning their new Nissan and its features. Additionally, the event featured catering from Uncle Julio's and live music to keep the evening informational yet enjoyable. We also gave out raffle prizes, including free oil changes, Nissan mugs, t-shirts, hats and key chains, to show our appreciation for our customers and their loyalty, which capped off the incredible night.
Keep an eye out for our next New Owner's Clinic being held soon. We hope to see you there!