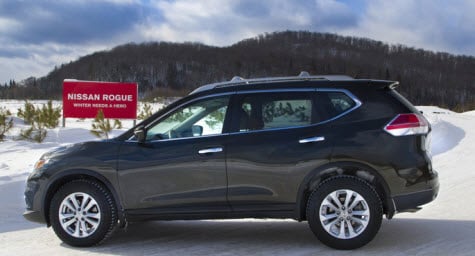 The 2014 Rogue has been the pride and joy of Nissan since its initial release, and to further show its amazing abilities, the nameplate recently took it for a spin on one of Montreal's most intense ice-covered tracks to show journalists what it's truly capable of. Let's just say that the Nissan Rogue did not disappoint.
With frigid temperatures and heavy snow on the scene, journalists gathered at the Mecaglisse circuit, part of a 700-acre motorsport facility, to see the Rogue and its high-powered all-wheel-drive system in action. The extreme conditions made it a perfect spot to showcase how well the SUV handles during the winter season, and as soon as it hit the track, everyone was impressed. Frank Kirchhoff, co-owner of the Mecaglisse circuit and facility, also showed his appreciation for the Rogue after driving it the day before the event.
"I drove this car yesterday, and even if you drive without studs, only on regular winter tires, you really feel the car, and the handling is really good. I drive many cars during the winter, and I feel the Rogue is one of the best SUVs that you can get."
Although the Rogue's all-wheel-drive system plays a huge role in its performance, Tim Franklin, Product Planning, Nissan Canada, also credited the SUV's braking and ability of its systems to work in unison for its "confident ride." If you'd like to see for yourself what makes the 2014 Nissan Rogue better than the competition, stop by Texas Nissan for a personal test drive. Also, check out a video of the Rogue on the Mecaglisse track below!