2016 Nissan Leaf Driving Impressions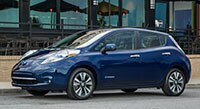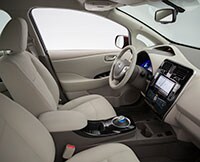 Driving an electric car feels like you're driving a clothes dryer, but still there's something nicer about it than driving a car with thousands of explosions constantly happening under the hood. The Leaf is quiet and calm at all times, so silent around town that there has to be an artificial exterior sound to alert pedestrians.
It starts with a button and goes into gear with a mouse. It can accelerate more quickly than an economy car with an engine, which needs more attention from the driver and sometimes gives drama for feedback. The 80-kilowatt (107-horsepower) electric motor, drawing from the lithium-ion battery pack under the floor, sends a strong 187 pound-feet of torque to the front wheels. It's there when you need it, although the Leaf is not super-quick for passing from 40 to 70 mph.
To get maximum acceleration you have to press hard on the accelerator. It's designed that way to make sure you really do want to use up that precious energy, kind of like your computer or television asking if you're sure you want to delete that thing.
At any speed more than about 50 mph, the Leaf feels breathless, and the steering gets heavier, like it's pushing into headwind, which is exactly what's happening with wind drag, so the range drops like a stone.
An Eco mode cuts power by 10 percent, when you're suffering from range anxiety, but it feels like more than 10 percent, dragging the Leaf down to slow and frustrating. For safety's sake, Eco is over-ridden when you floor it.
The regenerative braking is tuned to feel like an automatic transmission. A B mode increases the regeneration to feel like engine braking. Because of the low center of gravity from the battery pack there's almost no body roll, but being a tall car on small wheels, it's sensitive to side winds.
Overall, the Leaf's handling and roadholding are adequate, but hardly engaging; driven aggressively, it's disappointing, with numb steering and little feedback. The driver feels removed. But on the upside, the turning circle is a shockingly small 17 feet.
All prices include all rebates. The prices and incentives shown above may vary from region to region and are subject to change. Inventory is subject to prior sale. Vehicle information is based on standard equipment and may vary from vehicle to vehicle. Please contact us via phone or email for specific vehicle information. All prices plus tax, title, license, dealer adds and documentation fee.