2014 Nissan Juke Driving Impressions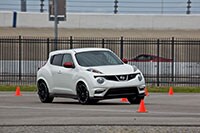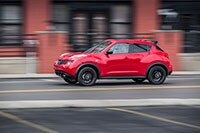 The Nissan Juke steers nicely in most circumstances, with accuracy and quick response, and it hugs every bit of the road. The standard big 17-inch wheels use tires with a large footprint, 215/55 tires. The 1.6-liter turbocharged engine accelerates convincingly up to 6400 rpm, where the rev limiter gently chokes the engine. There's an exciting surge at 3500 rpm, and not much torque down low (the specs say otherwise, but our butt's not lying). Eighty miles per hour is a casual 2600 rpm, with a tall sixth step in the CVT transmission.
As for the Nismo, our driving impressions are memorable. We had a blast on our favorite fantastic untraveled road. But we'll jump to the deal-breaker. The Nismo needs a manual transmission to go with its all-wheel drive, but Nissan says it's not gonna happen. We didn't drive the front-wheel-drive Nismo, but others have and they report that the torque steer is strong.
The CVT is fine for around town and in the other Juke models, but in the Nismo, a CVT doesn't meet the demands. It tries, and it's not bad for a CVT, but it can't keep up. The CVT steals some life from the spirited engine. At the least, there should be paddles.
The front-wheel-drive Juke SL comes standard with the six-speed gearbox, and so does the fwd Nismo, but the Nismo needs its all-wheel drive, which does an almost unbelievable job in ending torque steer and understeer. It uses what's called torque vectoring, a 50-50 split from front to rear, and also between the left or right wheels, as needed. This system can rotate the vehicle through a curve and keep it tracking on the path determined by the steering.
In street terms, we could not get that sucker to push, pitching it into slow corners and hammering the throttle coming out, on its beefy 225/45R18 summer tires. One downside to all-wheel drive is a smaller fuel tank because the awd components need the space; only 11.8 gallons compared to 13.2 in the fwd, so there's about 40 less miles in a tank of gas.
Don't get us wrong about the CVT; except for our wanting it to overachieve in the Nismo, it's really good, with smooth kickdowns and six sharp steps in manual mode (well, the step between second and third is kind of tall). It's not terribly obedient in manual mode, and it's slow to figure out your driving technique in changing conditions, but still, for a CVT it's progress. Some CVTs still feel like a big rubber band.
And the manual has its drawbacks. For one thing, there's torque steer (a sideways tug on the steering wheel) that doesn't exist with the CVT; and for another, this particular six-speed isn't a crisp one, so it makes the Juke feel bigger because it responds slower. And the manual transmission transmits more engine noise. But wait, that's a good thing in the Juke.
The I-CON system, standard in all but the base Juke S, gives you three modes: Eco, Normal and Sport, that change the settings for available power, CVT, and steering effort. Sport mode makes the gas pedal more responsive, sharpens the CVT and quickens the steering. In Eco mode, the gas pedal is way less responsive, the transmission works to optimize fuel economy rather than acceleration, and the cornering gets duller. Don't expect immediate acceleration on a freeway in Eco mode, although you could hum along at 65 mph with the cruise control set, no worries. And if you're lightfooting it around town, Eco mode is great.
In any car with a short wheelbase, the cabin is going to feel the bumps. In the Juke, they're not sharp or harsh, but they are plentiful. A couple hours on a rough freeway, and you'll know it. But overall, the ride is good, and the Juke isn't uncomfortable in rough spots. We loved those Nismo seats.
All prices include all rebates. The prices and incentives shown above may vary from region to region and are subject to change. Inventory is subject to prior sale. Vehicle information is based on standard equipment and may vary from vehicle to vehicle. Please contact us via phone or email for specific vehicle information. All prices plus tax, title, license, dealer adds and documentation fee.