NV 2500 Update from Dallas - Fort Worth Nissan Research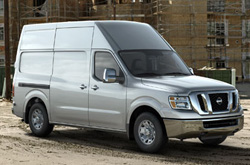 For the full 2013 Nissan NV 2500 review, please scroll past the video below. As the prominent Nissan retailer in Dallas - Fort Worth it is our responsibility to serve our customers with Nissan reviews authored by the top Nissan writers in the world. Filled with helpful facts and specs, each paragraph gives you full access to everything the Nissan NV 2500 has to offer. Watch the video below or skip it to get the NV 2500 review.
View a Walk-around Video of the 2013 Nissan NV 2500
Quick Stats for the Nissan NV 2500
Comparing the 2013 Nissan NV 2500 side-by-side with against vehicles like the 2013 Chevy Express, Mercedes-Benz Sprinter and the Ford E-Series, and you will spot that the 2013 NV 2500 scores higher the competition in many areas. Check out our bullets to see why!
2013 Nissan NV 2500 Colors: Super Black, Red Alert, Glacier White, etc...
2013 Nissan NV 2500 MSRP: $26,420
2013 Nissan NV 2500 MPG: N/A city / N/A highway
2013 Nissan NV 2500 0-60 MPH in N/A seconds
2013 Nissan NV 2500 Seats: 2 passengers
2013 Nissan NV 2500 Body Style(s): Van
2013 Nissan NV 2500 Cargo Space: 121.9 cubic feet
Features & Accessories Available on the New 2013 NV 2500
Service Information for Dallas - Fort Worth Nissan Buyers
Don't look to a mom and pop car repair shop in Dallas - Fort Worth when Texas Nissan's fantastic NV 2500 experts are only a brisk drive away from your place of residency. We also throw in a 12-month long warranty on our work - more than most mom and pop shops do. If you dismiss getting quality repair work, your Nissan NV 2500's health might weaken, so bring it to the masterly mechanics at Texas Nissan. We handle a large array of jobs with ease, including Nissan battery replacement, in-cabin air filter checkups and, of course, more time consuming tasks like shock and strut repair - and this is just a tiny part of what we can tackle. Make a sensible choice when electing a shop to have your Nissan NV 2500 repaired, and keep in mind: At Texas Nissan you can always count on receiving hassle-free service and cheap prices on Dallas - Fort Worth car repair. When you come to Texas Nissan's service department, take advantage of insane savings with our specials. Click under this paragraph!